Jatinder Gulani | BVSc & AH, PhD, DACLAM
Dr. Gulani completed his degree in veterinary medicine (BVSc & AH) in 2001 from Punjab Agricultural University (which is located about 200 miles north of Delhi in India). In 2002, Dr. Gulani moved to United States and joined Purdue University for pursuing a doctoral degree in Veterinary Immunology. At Purdue, he worked in a research laboratory (from 2002-2007) in department of veterinary pathobiology. His focus of research was developing new vaccines and diagnostic tests for Johne's disease (bovine paratuberculosis) and transmissible gastroenteritis disease in swine. Dr. Gulani published his research work in peer-reviewed journals. Dr. Gulani desire for higher education and love for chocolate led him to a two year residency program in Laboratory Animal Medicine at Hershey, PA (Penn State Milton S. Hershey Medical Center). In the residency program, he gained in depth knowledge and training on nutrition, medicine, anesthesia, surgery and pathology while working with variety of animal species.
Dr. Gulani has more than 17 years of experience of working with Dogs, cats, rabbits, ferrets and rodents. He has held several positions in private practice, academia, pharma, department of defense and department of health and human services. Dr. Gulani is certified by Educational Commission for Foreign Veterinary Graduates of American Veterinary Medical Association (AVMA) since 2009. Dr. Gulani became Diplomate of American College of Laboratory Animal Medicine (ACLAM) in 2013. His areas of expertise are preventive medicine, immunology and endocrine diseases.
Dr. Gulani is a resident of Clarksburg since 2013. He lives only a block from the practice along with his wife and two beautiful daughters. He is on a look out for a perfect puppy dog for his daughters. In his spare time, Dr. Gulani likes to cook and spend time with his family and friends. Dr. Gulani also likes to visit his family and friends in India whenever he can.
Mark Chappell | DVM, MPH, DACLAM, DACVPM
Dr. Chappell has 30 years of experience serving in various capacities of veterinary medicine beginning as a kennel assistant, working as a technician and then as a clinical veterinarian beginning in 2001. He received his Doctor of Veterinary Medicine degree at Oregon State University in 2001. He also earned a Masters of Public Health at the Uniformed Services University of the Health Sciences in Bethesda, Maryland in 2008. He holds advanced veterinary board certifications in the American College of Veterinary Preventive Medicine (DACVPM) and the American College of Laboratory Animal Medicine (DACLAM). He is currently on active duty in the United States Army as a veterinarian running veterinary programs and providing animal care for the Department of Defense.
He has expertise in providing medical and surgical care to a broad variety of animals including exotics such as rabbits, guinea pigs, hamsters, and ferrets as well as dogs and cats. His passion involves supporting the non-profit organization Happy Hubz, spending time with family and enjoying activities in nature.
Nancy Petro | DVM
Nancy J. Petro, DVM received her Degree in Veterinary Medicine from the Ohio State University, College of Veterinary Medicine, in 1993. She grew up in the suburbs of Cleveland, Ohio with the goal of becoming a Veterinarian since age 8 after falling in love with horses. After graduation, she proceeded into the professional practice of veterinary medicine which included a multitude of different mammalian species such as dogs, cats, horses, cattle, sheep, goats, swine, ostriches, emus, and pocket pets in rural Ohio.
She married a fellow veterinarian from Ohio who was in service of the U.S. Army Veterinary Corps and traveled the world broadening her practice experience to include novel animal species such as marine mammals (dolphins and seal lions) and non-human primates. Additionally, she is a highly skilled veterinary surgeon applying those skills to advancing diagnostic and therapeutic interventions against the world's most deadly infectious diseases at USAMRIID, Ft Detrick. She is honored to be part of a team who are trying to save the world and contributing her talents towards something that is larger than all of us! She is a Diplomat of the American College of Veterinary Reality (DACVR) – LOL with over 25 years of advanced private practice experience.
Her special interests are orthopedic and soft tissue surgery, and equine and canine reproduction. Her hobbies are trail riding, various arts & crafts, golfing, and anything involving her kids. She has horses, dogs, and cats.
Scott Willens | DVM, PhD, DACVPM
Dr. Willens received his BS in Animal Science from Rutgers University in 1992, DVM from the University of Minnesota in 1996 with externships at the Minnesota Zoo and Gabbert Raptor Center, a veterinary internship in Aquatic Animal Medicine and Research from Mystic Aquarium in 1999, and Ph.D. in Comparative Biomedical Sciences (Pharmacology) from North Carolina State University in 2005. Immediately after the events of September 11, 2001, Dr. Willens joined the Army Veterinary Corps and retired with 20 years of active-duty service in 2022 as a Lieutenant Colonel. He voluntarily deployed to Iraq in 2007 on an embedded provincial reconstruction team to assist agricultural communities in Babil Province and veterinarians at the Baghdad Zoo. In 2013, Dr. Willens became a Diplomate of the American College of Veterinary Preventive Medicine (ACVPM), and he is a member of the American Veterinary Medical Association (AVMA), the American Association of Zoo Veterinarians (AAZV), and the International Association for Aquatic Animal Medicine (IAAAM). His expertise includes avian/exotic/aquatic animal medicine and surgery, pharmacology, toxicology, preventive medicine, and public health. In addition to his relief veterinary position at the National Aquarium, Dr. Willens holds a third-degree black belt in taekwondo and sings lead vocals for the rock cover bands Weird Science and Chasing Friday.
Adelia Chandan | Receptionist/Assistant
Adelia enjoys working with all kinds of animals! Adelia started her journey working at Green Meadows Petting Farm in Urbana for a total of six years from the age of 14. She was a part of the FFA and served as an officer during three years of her high school. During high school she broadened her passion for her love of animals ranging from small rodents to large animals. She showed South African Boer goats during two years of high school. She loves to learn about all exotics, working with livestock, and of course cuddling with her dog and cats at her home. She is a past Maryland FFA State Treasurer where she served the term 2018-2019. Adelia has been able to travel to Alaska and South Africa due to her service with Maryland FFA. Adelia can not wait to see where her future here at Neighborhood Veterinary Associates takes her and is so eager to gain relationships with clients and their fur babies!
Lari Kimball | Veterinary Technician
Lari has been working in the veterinary field for over 26 years. She has played various roles like receptionist, assistant, technician, surgery technician, dental hygienist in veterinary medicine over the span of the last 26 years. Working with pets is her passion. When Lari is not at work, she enjoys spending time with family, her fur babies and scaly babies.
Darcey Bowen | Veterinary Technician
Growing up in New York State, it was obvious at an early age that she focused on two things, animals and art. Always coloring and drawing creatures, or occasionally horrifying her supportive parents by walking up with bugs in her arms proclaiming "Look at my pets!" Her love of animals was as much a part of her as her eye color or heartbeat.
In her first real-world work experience at the Ross Park Zoo in Binghamton, NY she cared for everything from bears, wolves, exotic cats to alligators, pythons, and wildlife.
Dacey passed her National Veterinary Technicians Exam in 2015 and has focused her career on exotics and wildlife rehabilitation. She is also our resident artist and draws/paints amazing portraits and custom artwork. Darcey and her wife of 11 years have a small zoo at home consisting of a 40-year-old yellow-naped Amazon, 3 chinchillas, a cat who thinks she is a dog, a few turtles, skinks, and a very moody dogface pufferfish.
Cindy Jones | Receptionist
Bio coming soon!
Tammy Jaramillo | Veterinary Technician
Tammy has been a technician since 2000. She got her Associate of Science in Veterinary Technology. She was Nationally Certified in 2004. Tammy is also a military spouse of 17+ yrs, boy-mom, has a Shih Tzu named Minx, and 2 Sphinx, Alfie, and Aries.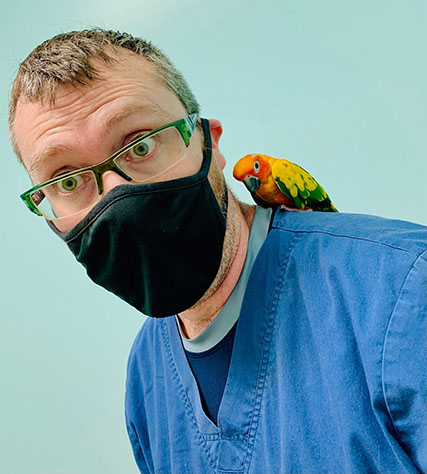 Will Webster | Veterinary Technician
He joins the team with 15 years of animal experience from King Cobras to Cavalier King Charles Spaniels, he's handled them all. Will is certified in fear free techniques and has applied what he has learned in zoos, aquariums, shelters, research, and personal pet training to everyday life. During his downtime you'll probably find Will on/near the water or reading a good book.